Posted on 16. Nov, 2011 by Joseph Fosco in Current Events, Organized Crime
According to my sources, rumors are swirling in the Cicero-based faction of the Chicago Outfit that the number of the defendants in the landmark Family Secrets case who strongly suspect that Chicago Outfit boss Johnny DiFronzo is a double agent is growing. During the Family Secrets trial federal witness Nick Calabrese testified that John DiFronzo was at the murder scene of thugs Anthony and Michael Spilotro. However, DiFronzo was not indicted, despite the jury finding the witness credible enough to convict others on his testimony. Until I saw a particular photograph recently, I have been on the fence regarding the issue.
For those of you who know Johnny DiFronzo would recognize the name Gino Marino. Gino is a close ally, confidant and underling to DiFronzo. They are seen together in public as much as Cardinal Francis George is seen with his live-in male secretary, Father Daniel Flens.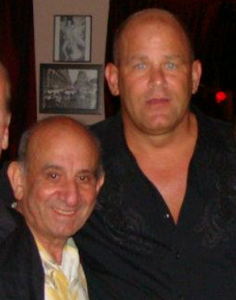 Here is a recent photo of Gino Marino. He is the smaller man on the left side of the image. Who could tell me the name of the person right next to him? If you said government witness Frank Calabrese Jr., you are correct – give yourself a gold star.
I am not picking a fight with Frank Jr.; all I am doing is pointing out something very odd.
How could Marino, given his longstanding and intimate role in DiFronzo's inner circle, find it okay to stand next to a government witness and pose for a photo?
Other Outfit underlings under previous bosses, such as Willie Messino or Jimmy Bonomo, would not have dared to associate with a federal witness who testified in a case that put away several Outfit bosses, let alone pose in a photo with him. Bosses like Joey Aiuppa and Jack Cerone would have not tolerated such socializing, to say the least. I do not even want to think about what the outcome would have been for Willie and Jimmy.