Posted on 03. Jun, 2012 by Theodore Roe in Current Events, Politics
Oh callooh, callay!  The Diamond Jubilee of Queen Elizabeth II of Jamaica, Canada, Bahamas, Antigua and Barbuda, Paupa New Guinea, Saint Kitts and Nevis, Saint Lucia, New Zeland, Grenada, Belize, Barbados, Tuvalu, the Solomon Islands, Saint Vincent and the Grenadines, Australia and, of course, the United Kingdom, is finally here!  Everyone get out the champagne and toast the 60 years this woman has stolen taxpayer money from millions and millions of people and squandered it on her ridiculous lifestyle!
Now, I've been assured by very serious people and the news media at large that the idiots lining the Thames are instead toasting Queen Elizabeth's long life and successful (???) reign… but that seems like of far-fetched to me.  Really, what gaggle of nincompoops would cheer on an irrelevant sinkhole of money like that?
Well, they are British, I suppose….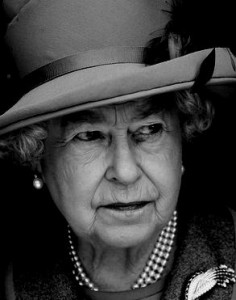 So the citizenry of the U.K. pony up tens of millions of dollars a year to make sure the Queen and her corgis are comfy. Someone needs to keep all the lights on in her castles. We certainly could not expect her to spend her own money – she only has half a billion to her name, after all. 
I suppose these massive expenditures might be justified if the Queen actually did something, but no.  She doesn't do anything except suck up resources, and her immediate family is pretty much the same.
There are a few Brits that feel the same way that I do about monarchs, and they will be out in force during the Queen's party to protest the gross waste of resources that is maintaining a line of in-bred royalty whose sole claim to power is that they had the right (and properly married) mommy and daddy.  Republic is one of those groups, and they have gotten smidgen of media coverage but it isn't nearly enough.