Posted on 09. Jul, 2012 by Theodore Roe in Analysis, Current Events
This week's Twit got FactChecked into the wall by the center forward of team truth. Vilifying a successful businessman without proof will get you two minutes in the penalty box along with:
Stephanie Cutter
FactCheck.org is an excellent resource for digging through the endless yellow journalism, political muckraking and outright lying that typifies an American election cycle. I often use it and have very, very rarely found a problem with their research. The site is run by the Annenberg Public Policy Center of the University of Pennsylvania. The director of this group, Dr. Kathleen Hall Jamieson, is considered by some to be left-leaning in her politics, but any personal political bias she holds does not seem to bleed through to the good work done on their website.
An excellent example of this lack of bias is the recent exploration FactCheck did of the advertising blitz meant to paint Mitt Romney as Outsourcer-In-Chief.
Of course, pretty much all of the accusations in the ads are bogus, and FactCheck said so. They posted a lengthy and well-researched piece on their problems with the attack ads, and what did they get for their trouble? A snotty letter from Stephanie Cutter, deputy campaign manager for the president's reelection team, demanding they retract their story.
Thankfully FactCheck did not bow to the Chicago Machine intimidation tactics employed by the Obama campaign. They responded with another piece, calmly and carefully tearing down the fraudulent arguments put forward by Cutter.
Of course, this isn't the first time Cutter has resorted to whining to make her point. As a matter of fact, she's even a little famous for it.
The president's primary super PAC, Priorities USA, isn't doing as well as it wants financially. Evidently the main rival of this organization, the Romney-backing Restore Our Future PAC, is raising more money than them. So, you know what Obama backers like Cutter are doing about it? Crying on YouTube.
The squeaky wheel gets the oil, I know, but this is just plain pathetic. In 2008 the Obama campaign amassed a record-shattering 778 million dollar war chest and outspent McCain and the Republicans 3-to-1. Obama's 2012 reelection war chest has accrued twice the money of Romney's, and what has the GOP done? They're out pounding the pavement, desperately trying to get people excited about the most boring Republican presidential candidate since Bob Dole. The scary thing is, they're bridging the gap.
So now that they can't simply spend their way to victory, the Democrats have turned to screeching about how unfair the whole process has become. Cutter has a small mountain of Youtube videos decrying the evils of rich Republicans. As a matter of fact, she's become so popular among some circles that Second City did a parody of her having a meltdown on camera.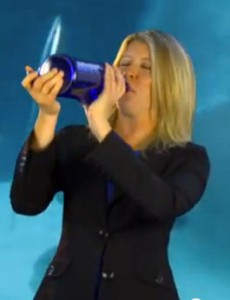 While I agree with Second City that alcoholism is hilarious and Cutter (or her Second City stand-in Janel Benisch) may be every inch the MILF she proclaims to be (hard to tell with that suit coat on), all this video does for me is point out that Obama's people are so lost that even notoriously Democrat-dominated comedy troupes know it. Likely without meaning to, Second City quickly got to the heart of the DNC's largest problem in this election cycle: their inability to cope with real competition.
How dreamy it must be to unload all the responsibility for your party's massive failures at the feet of Citizens United. I know the Obama campaign finds it frustrating that people are now allowed to express their opinions in the same way Unions have been for decades, but perhaps if it had a message that wasn't so utterly pathetic and a candidate that hasn't broken an endless array of promises to his previously loyal financial backers, they might not be in this mess.
Just keep blaming everyone else, though. That's sure to work in the end.