Posted on 30. Jul, 2012 by Theodore Roe in Current Events, Politics
This week's Twit and Twit runners-up all ask the same question: where is (and isn't) the beef? The meat of their arguments might be red or white, but overall none of it is kosher. The grill is sizzling and all ready for:
Proco "Joe" Moreno
Chicago is a mystically bizarre place. If you asked me a week ago if there was any way, shape or form in which I would envision writing a column defending the Chick-fil-a founding family's blather about its blind hatred of things that deviate from their particular narrow reading of the Bible, I would have answered in the negative. Yet, here I am, addressing the need to protect religious stupidity from the heavy hand of the big G, all courtesy of the idiocy of several U.S. mayors, but particularly because of the special kind of stupidity which can be found in Chicago's first ward in the personage of Alderman Proco "Joe" Moreno.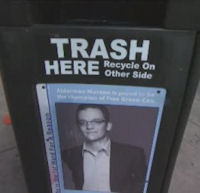 If you didn't know Proco Moreno was an alderman, that's okay. He recently was (illegally) putting his face on recycling cans in his ward, so it is entirely feasible that you may have thought he was the garbage man. With the sort of trash he's passing off as public service the confusion would be justified.
So this whole flap started when, for reasons beyond the reckoning of most sane Americans, Chicago Ward boss Proco brazenly stated that, because Chick-fil-a's CEO and COO believe that God has a personal, vested interest in the sexual configuration of secular marriage law, he would keep said business from opening a store in his little fiefdom. He's doing this under a rule that allows for an alderman to block permits. Originally he lied through his teeth and said he was doing this over "traffic concerns." When it became painfully clear he was simply denying the permit because he did not like the politics of the Cathy family, he then got on his little soapbox and began pontificating about how Chick-fil-a's moral standards were incompatible with those of Chicago. This is his entire justification for denying the permit.
Of course this is wildly illegal, but, being from Chicago, Moreno figured things like civil rights have nothing to do with reality. As an added bonus, The Rahmfather agreed with him, which is all the justification one needs to break federal law as a Chicago caporegime.
It almost goes without saying that here is a bevy of politically connected people in Chicago that take every opportunity to decry the evils of homosexuality, and in much more stark and unforgiving terms than Dan Cathy. Just take a ride to the South Side and listen to Reverend (and Democrat state senator) James Meeks preach about the evils of homosexuality and the necessity to ban same sex unions. While you're down there you can also visit Mosque Maryam and listen to the disciples of famed bigot Louis Farrakhan tear down the gay rights movement. Last time I checked the Rahmfather and Alderman Moreno weren't crying to impeach Meeks or deny the NOI any zoning permits.
Little did the Cathys know that the only unforgivable sin in this town isn't failing to uphold Chicago's moral code – it's to skip the DNC donation basket.